The SUSHI BAR AT THE FLYING BRIDGE is now open with tables and a deck area designated for sushi customers. Our sushi menu will also be available to all restaurant and bar customers. Takeout orders are welcome as demand permits.
Open Wed-Sun 11:30-8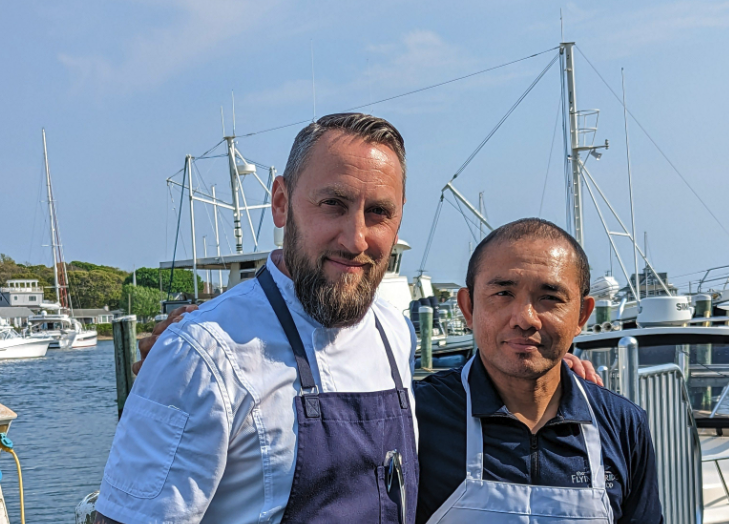 Meet our new Sushi Chef!
The Flying Bridge is thrilled to announce the addition of Master Sushi Chef Wayan to our culinary lineup. Local chefs highly respect Chef Wayan's skill, and he has a solid following throughout the South Shore and Cape.
Read Now
View our Sushi menu
The Sushi Bar at the Flying Bridge opens May 23rd and will be open Wednesday through Sunday with the same hours as the restaurant. In addition, takeout orders will be accepted as demand permits.
Download Menu
Please note, all sushi menu items are served independently of regular menu items
Maki
(8 Pieces)
With crab, avocado, cucumber
---
With nori outside with tuna
---
---
---
(9/10 Pieces)
California roll topped with tuna, salmon, hamachi
With unagi and cucumber topped with avocado and sweet soy
---
With cooked shrimp, crab, cucumber, avocado, mango
Vegetarian Maki
(8 Pieces)
---
With cucumber and avocado
---
Turn Up The Heat Maki
(8 Pieces)
With cucumber and spicy mayo
With cucumber and spicy mayo
---
With tempura crunch & avocado
---
With tuna and avocado topped by spicy tuna and jalapeno
Special Maki
(10 to 12 Pieces)
With lobster, shrimp, cucumber, avocado topped with sweet soy and spicy mayo
With tuna, salmon, crab, cucumber topped with crunch and sweet soy
---
Scallops topped with spicy crab, avocado, crunch and sweet soy
With smoked salmon and cream cheese
---
205 Shrimp Red Dragon Roll
With tempura shrimp, scallions topped with peppered tuna and sweet and spicy soy
206 Scallop Red Dragon Roll
With crunch, scallions topped with peppered tuna and sweet and spicy soy
---
With crab and cucumber topped with sweet chili sauce
Salads
402 Cucumber & Spicy Crab
---
Consuming raw or undercooked meat poultry seafood or shellfish may increase your risk of foodborne illness. if you have a food allergy alert our staff